How to Train Your Dragon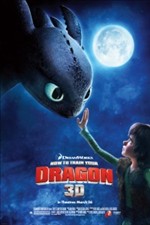 For sequences of intense action and some scary images, and brief mild language.
Set in the mythical world of burly Vikings and wild dragons, and based on the book by Cressida Cowell, this action comedy tells the story of Hiccup, a Viking teenager who doesn't exactly fit in with his tribe's longstanding tradition of heroic dragon slayers. Hiccup's world is turned upside down when he encounters a dragon that challenges him and his fellow Vikings to see the world from an entirely different point of view.